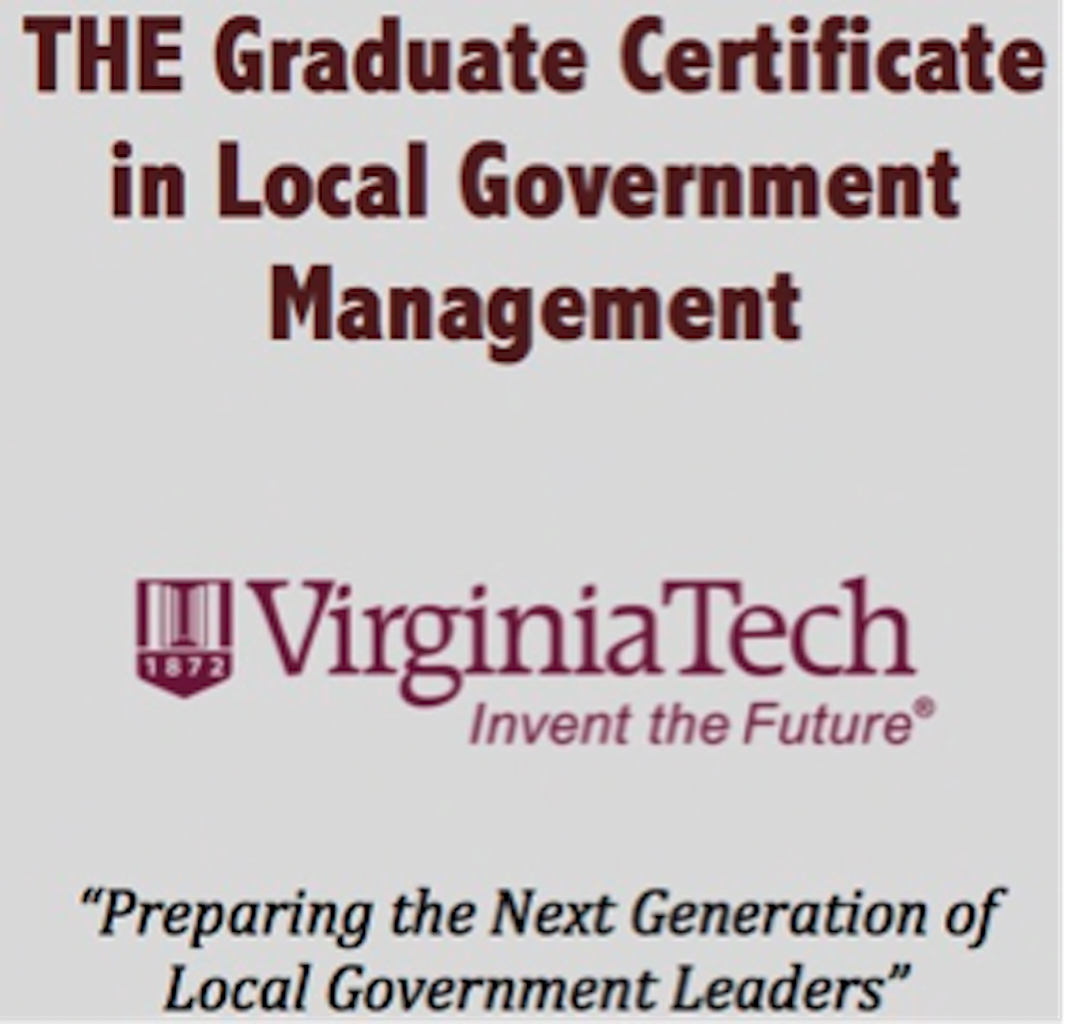 The Local Government Certificate Program is off to a great start this fall semester with over 40 students participating in four courses with 8 professors involved in Virginia local governments. Students are tackling challenging case studies, accessing valuable management tools, and developing exceptional leadership skills to positively impact our communities. We are continuing our recruitment efforts and answering questions about the Local Government Certificate Program through 2 virtual webinars led by Dr. Stephanie Davis.
Please find session details below:
The new president of the VT ICMA Student Chapter is Victoria McNiff. Victoria is from Richmond, VA and went to Virginia Commonwealth University. She has a Bachelor of Arts in Political Science with a concentration in Public Administration. Victoria is a full-time graduate student in the MPA and Local Government Certificate Program and is the full time Graduate Assistant to Dr. Stephanie Davis. She was the recipient of the Jerry E. Cox Leadership Local Government Scholarship for her passion for local government. Victoria aspires to be a City Manager and is dedicated to learning every aspect of local government to serve her community ethically, with compassion, and a strong educational foundation.
The VT ICMA Student Chapter started the first series of webinars on September 9, 2020 with Kim Bradford from the Alliance for Innovation. The Alliance for Innovation webinar gave a brief overview of the organization, Alliance resources, and how to access those resources. With over 20 people in attendance, the Alliance refresher was valuable to our chapter to enable students to get more involved in the Alliance and learn about an organization that supports and provides innovative solutions for local governments.
The VT ICMA Student Chapter is excited to host Deputy City Manager, Laura Fitzpatrick with the City of Chesapeake, for our October 8th webinar. For the month of November, we are looking at our VLGMA members to create a panel of 3-4 Managers interested in assisting students with professional advice (including resume and interview tips), mentorship opportunities, and answering general questions about city/town management. Please email VT ICMA Chapter President, Victoria McNiff at mcniffva@vt.edu with your interest.