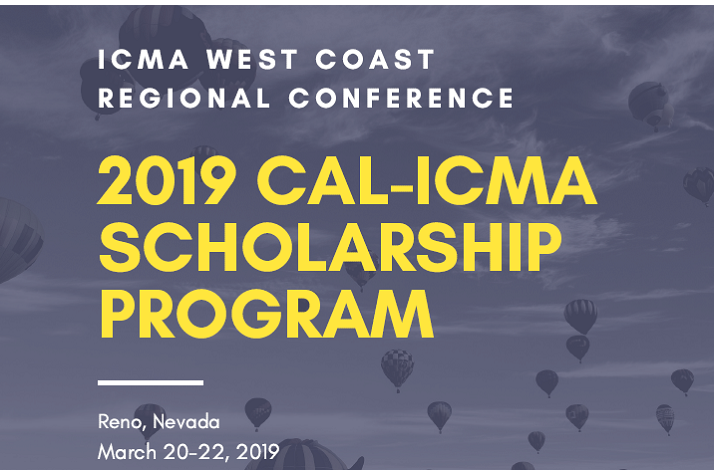 Apply by January 29, 5:30 PM PT
The Cal-ICMA 2019 West Coast Regional Conference Scholarship includes complimentary conference registration as well as a travel stipend to cover lodging and transportation expenses related to attendance.
Two full scholarships awarded to top two applicants:

Conference registration + $700 travel stipend

Two partial scholarships awarded to two runners up:

Conference registration + $300 Travel Stipend
The travel stipend award will be provided on a reimbursable basis upon submittal of receipts for actual expenses paid. Receipts must be submitted to Cal-ICMA to receive reimbursement. For more information about the ICMA West Coast Regional Conference click here.
If you have questions about the scholarship application process, email Peter Ibrahim.
Selected winners will be required to:
Commit to attend a majority of the 2019 West Coast Regional Conference 
Provide a letter of verification from a direct report/supervisor of your attendance (In the event that you're unable to attend, please notify the scholarship committee at least 3 weeks prior to) 
Post 2-3 social media posts during the event about their experience and mention the Cal-ICMA Twitter handle in their posts (@Cal_ICMA w/hashtags) 
Author a brief blog post for the Cal-ICMA Newsletter regarding their experience at the conference 
Participate on the Cal-ICMA Scholarship Committee to help pick the next scholarship winners