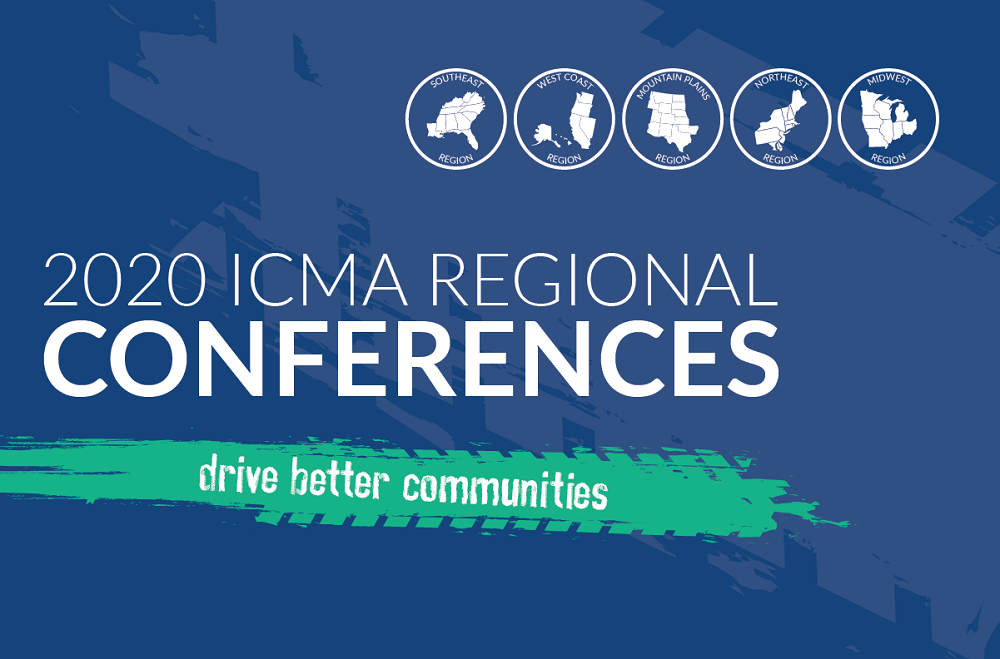 Our easy to follow submission process allows the local government community to have a say in what programming is scheduled for one or all five of the U.S.-based 2020 ICMA Regional Conferences taking place in the following locations:
Southeast Regional Conference | March 4-6 | Durham, NC
West Coast Regional Conference | March 18-20 | Vancouver, WA
Mountain Plains Regional Conference | March 25-27 | Irving, TX
Northeast Regional Conference | April 1-3 | Cambridge, MA
Midwest Regional Conference | April 22-24 | Grand Rapids, MI
How the Call for Presentations Works
During the 2019 ICMA Annual Conference, state associations and members of ICMA from their respective regions met to discuss the major challenges making an impact in their communities. From there, ICMA staff members and regional directors selected important topics for sessions and speakers to address at the 2020 ICMA Regional Conferences listed under "Presentation Topics" below. Please look through the list to see if something sparks a new idea for a presentation and speaking opportunity for you in your respective region or all regions and submit a session proposal through our online submission site.
Don't see a topic that would be of interest to our attendees? When logged into the submission site,  just select "Other" and submit your session and topic!
When you submit your presentation, consider the presentation format and the information/content the attendee will receive through the specified time. We have new presentation opportunities for 2020, see below under "Presentation Formats".
Submission Deadlines
Southeast Region Submission Deadline: Friday, December 20 - CLOSED
West Coast Region Submission Deadline: Friday, December 27 - CLOSED
Mountain Plains Region Submission Deadline: Friday, January 24
Northeast Region Submission Deadline: Wednesday, January 29
Midwest Region Submission Deadline: Friday, January 31
Presentation Topics
Affordable Housing
Census 2020
Council-Manager Relationships
Economic Development
Equity and Inclusion
Ethics
First-Time Administrators
Homelessness
Infrastructure
Innovation
Landing a Job in the Local Government Profession
Leadership
Mentoring
Organizational Development
Performance Management
Small Towns and Rural Communities
Smart Communities
Supervising
Sustainability
Other
Call for Presentations Step-by-Step Process
Step 1: Create a New Account
Click here to access the submission site.  Then, click "Join Now" below to begin.
You must create a new account.  The submission site does not use the same log-in information as the ICMA website.
Step 2: Create an Account Profile
You will create an account profile that collects your contact information.  Required fields are marked with an asterisk (*).  There is an option to add assistant information as well and they will be copied on all emails that are generated from the submission site.
Step 3: Click "Begin a New Session"
You will create an account profile that collects your contact information.  Required fields are marked with an asterisk (*).  There is an option to add assistant information as well and they will be copied on all emails that are generated from the submission site.
Step 4: Task List
In this section you will be assigned four tasks:  Speaker Information, Session Details, Learning Objectives and Speaker Agreement.
Task 1. Speaker Information:  Add new speakers/submitters.  This requires contact information including title and organization, a brief bio and a headshot.  Press "Save Speakers" to continue to the next task.
Task 2.  Session Details:  Add a session title, avoid using abbreviations when possible.  Make the session title short yet specific that indicates the nature of the presentation.  There is a minimum of 10 characters and a maximum of 200 characters.  Choose the session topic and target audience(s).  Next, a session description is required.  There is a 300-word maximum for the session description.
Press "Continue" to continue to the next task.
Task 3.  Learning Objectives: Three learning objectives are required.  Complete the sentence, 'Upon completion, participant will be able to….' Use action words to begin this learning objective, such as list, describe, define, demonstrate, conduct, etc.  Press "Continue" to move on to the next task.
Task 4.  Speaker Agreement: Each speaker is required to submit a Speaker Agreement. You can access each author's form by clicking on the "Edit Form" button below each name listed. Click "Submit" then "Save Disclosures".
Step 5: Submission Completion
Finally, click the "Save Submission" button and then "Submit". An email will be auto-generated to all submitters/speakers on the session form.
Step 6: Submit Feedback
If you have any feedback regarding the submission process, you will have an opportunity to provide feedback.
Presentation Formats
Lightning Talks. This format allows 10 minutes for presenters. This may or may not include slides, but if slides are included, they should move forward automatically to keep the session on time. Because lightning talks are brief, it requires the presenter to make their point clearly and rid the presentation of non-critical information. This, in turn, helps keep the attention of the audience. 

30-minute Presentation. These sessions are designed for attendees who don't want to attend the traditional 60-minute educational sessions or deeper dives. It is designed to be a short, interactive session.

60-minute Presentation. This traditional session features a speaker(s) or panel and includes time for audience questions and answers.

60-minute Campfire Roundtables. These sessions begin a lot like a traditional presentation, with a speaker (or multiple speakers) at the front of the room presenting an idea to a group of people. After 15 or 20 minutes, however, the focus shifts from the presenter to the audience. For the remainder of the session, the presenter becomes a facilitator, inviting comments, insights, and questions from those around the room. Campfire sessions allow attendees to drive their own learning and share experiences with others, which also assists with networking.

120-minute Deep Dive. These sessions allow for in-depth, interactive sessions. Two hours immersed in a topic of importance to your city, county, responsibilities or career.
Frequently Asked Questions
What Are the Eligibility Requirements for Submissions?
All submissions must be in English and include the following:
Session title
Session type (ie- 60-minute presentation)
Session topic (ie-Sustainability)
Target audience(s)
Three learning objectives
Session submitter/speaker name(s), organization name, title, complete address, phone, and email information
Brief presenter biography and headshot
Description of session (no more than 300 words)
Speaker agreement
Session information will be published on the website, in the conference app and other channels when available.  All presentations must be noncommercial. At no time is it permissible for presenters to use their time slot to advertise or promote a product, service, or company.
ICMA reserves the right to cancel a session and/or change a speaker, if necessary.
What are the ICMA Regional Conferences?
The International City/County Management Association (ICMA) Regional Conferences are smaller gatherings of local government professionals celebrating the amazing things taking place in our communities around the world.  They provide unique opportunities for attendees to meet and share stories, learn new skills, and experience someplace new.  Attendees will leave feeling a deeper connection to their local government peers and inspired by the connections made and communities built.
Who Can Submit? 
Anyone!  While non-members are encouraged to join ICMA to enjoy the benefits of membership, submissions are accepted by members and non-members.
Can I Submit Ideas to More Than One Conference?
Yes!  The Call for Presentations is open to everyone where they may submit for one or more of the Regional Conferences.  Please note:  Submission acceptance to one conference does not guarantee acceptance to all other conferences.
Does Submitting an Idea or Proposal Guarantee my Acceptance?
 Idea or speaker submittal does not guarantee selection.
What Should Session Descriptions Include?
Session descriptions should include tool(s) attendees can take back to their communities.  Ideas should be educational, non-commercial and provide value to a wide-ranging group of ICMA conference attendees.
Will I be Notified if my Submission is Accepted?
All submissions will be reviewed, and submitters will be notified by email whether or not their proposal is selected for inclusion in the conference program.
What Happens if my Idea/Submission is Selected?
All selected submitters will be contacted with further information including notification of all deadlines.  Please note it is crucial to the success of the conference that all selected speakers, moderators, etc. adhere to all ICMA deadlines.
What Session Types is ICMA Seeking?
A complete listing of available session formats is available in the submission portal. 
Who Attends the Regional Conferences?
Local government management professionals of all career stages and backgrounds come to the ICMA Regional Conferences each year.  Audience types consist of:  Encore, Executive, Assistant/Deputy, Department Head/Director, Staff/Analyst/Assistant, Student/Interns, Small Community, and Senior/Credentialed Managers.  Members are welcome to attend any regional conference, regardless of where they reside/work; though most members select to attend in their home-region.